I recently watched the series Offsprings  on Netflix 
and fell absolutely in love with the main 
character "Nina Proudman's"  Style.  
She rocks a Boho Chic look in every show and each time 
I started a new episode I was as attracted to the plot as 
I was to seeing what she wore next.  
I liked this look which consists of fairly common elements : a fabulous tunic 
over a pair of jeans , tucked into cognac heeled boots.   
With her Aussie weather , there are never any truly winter outfits.  
I however happen to posses elements to create a similar outfit, so I felt inspired to blog it. 
I opted not to do skinny jeans and tuck in boots for today , as quite frankly I have 
gained weight and the longer bell bottoms with just a cognac boot peeking out is 
more figure flattering to counter the weight gain and my petite height.  
I actually hate that my sister's passing resulted in weight gain and thought about hiding out…
I am a strong woman who values self care and finding tools to motivate myself. 
What better tool than to publicly humiliate myself by posting pictures of my weight gain???  
Don't worry readers, I didn't mean that seriously, but I do think seeing myself in photos will be great
motivation to stay on the right track with eating and exercise.  
It was so much fun to find something to get me out of my funk and back to blogging
outfit posts , I already have another Nina Proudman Inspiration or two in mind…
Tomorrow my Steelers are in the play offs against my husband's Patriots, so 
I will definitely be choosing a look to support the black and gold team of my parents beloved state. 
Here is another " Nina Proudman" version of a tunic over jeans with boots, 
This green is very appealing, but I am not running out to buy anything right now.  
I do have a a teal one that would make a good substitute. 
It doesn't matter what color you choose, any embroidered tunic would work.  
This length from Old Navy would be good for petite
who wants to wear the skinny pants tucked into boots.

Another option from Macy's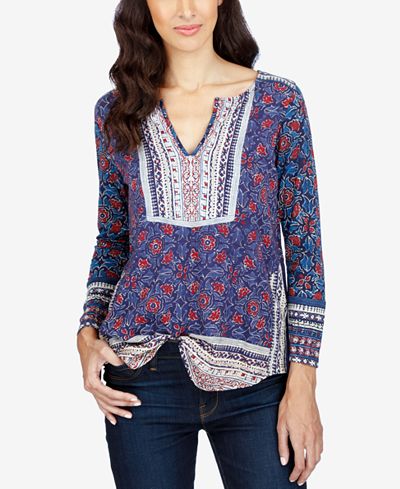 A printed version instead of embroidered would work too. 
I traditionally think of these type of shirts for Spring/Summer ,
but love the idea of increasing their use 
and versatility with layering.  
I have to say I don't think I'd ever have chosen
to wear my mint leather over this tunic without the Inspiration.
Dear Readers, Hoping you are having a great weekend!  
Love your comments and they help to keep my motivation up to blog 
during this crazy mourning of my sister who is gone too soon…
8 Responses to "Nina Proudman Inspiration Outfit"